First a little background. How did you become involved in the music business before you joined The Human League?
The usual route for "the rest of us" I guess, from playing air guitar in front of a mirror to joining/forming local bands, to something going right somewhere and the right people becoming involved in bringing what you do to the attention of the "industry".
In my case local luminaries such as Bob Last, Bruce Findlay and journalist Ian Cranna were very instrumental.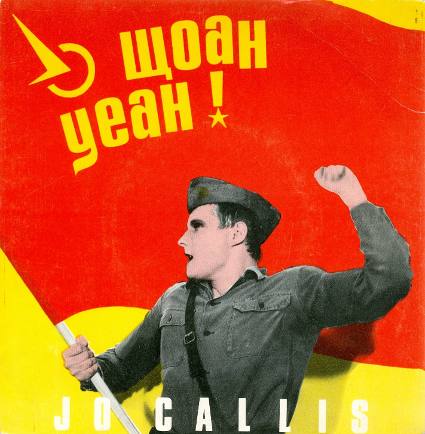 As I understand it was Bob Lasts idea that you joined the band. How much prior knowledge did you have of the The Human League?
The Human league were brought to our attention by Paul Bower of Sheffield band 2.3 whilst touring with The Rezillos, subsequently Bob (Last), who was our road manager at the time signed them to his Fast Product label (along with 2.3) and released Being Boiled as their first single.
I personally met the League for the first time when they supported The Rezillos at the Music Machine (which later became The Camden Palace) in London during 1978.
How was it for a guitar player to join a band taking pride in being all synth?
At the time I became involved with The Human League I had been playing in what were essentially guitar based bands (The Rezillos, SHAKE, Boots For Dancing etc.).
I felt that I was becoming a little "stale" and that a change of instrument and change of style would be as good as a rest, and hopefully bring a fresh approach to my song writing and overall enthusiasm.
So The Human League came along at just the right time, and I was glad to embrace the rapidly evolving "new technology" and try something a bit different.
You were off to a flying start as you co-wrote the single Open Your Heart and its b-side Non-Stop, which went to number 6 in the UK Singles Charts, giving the bands its second highest entry. That must have been given you a boost?
Ironically, I had started to work out both those tunes on guitar, playing along to an early drum machine which had about six preset drum patterns, Open Your Heart did translate better on the keyboard and I think we used the same drum machine with the same preset on the original demo which was done in the Leagues old 8 track studio in Sheffield.
I subsequently destroyed the aforementioned drum machine by plugging it into an incorrect power adapter, which was a bit unfortunate as I'd only borrowed it from an Edinburgh music store, oops!
But yes, it was a morale boost for myself and too much of a power boost for the wee drum machine to handle
.
"Ah think thon inverted voltage surge that was injected through the dilithium crystals must hae burnt oot it's warp core Cap'n! ".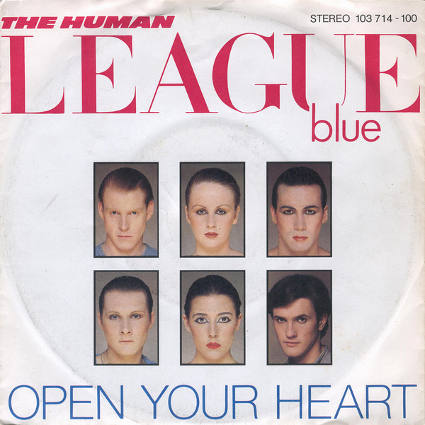 You went on to co-write 3 more track for Dare, including world conquering chartbuster Don't You Want Me, and the rest is history! Looking back, how do you view the recording of Dare, producer Martin Rushent's input, and the success that followed?
I had worked with Martin a couple of years earlier when he produced The Rezillos single Destination Venus/Mystery Action, Martin had made a reputation producing a lot of cutting edge punk/new wave stuff (The Buzzcocks, Stranglers, 999 etc.).
So the prospect of working with him again in the latest popular music genre sounded very interesting.
Martin had all the state of the art kit of the time at his studio, Genetic, so once the song arrangements and structures had been worked out, it was then left to Martin and Dave Allen (assistant producer/engineer) to input all the relevant data into the drum machines and sequencers.
This left the rest of us with little to do, so we seemed to spend a lot of time watching videos and playing pool until it was time for the manually played overdubs and the vocals.
I'm pretty sure the resultant success was quite enthusiastically embraced by all. After years of "plugging away" in our previous respective groups and with The Human League, we thought it was not before time.
Now that we were actually being paid for our endeavors, we could all afford decent accomodations and fill them with the growing arsenal of electronic gadgets and machines being produced by Roland, Korg, Yamaha, and especially Casio.
The album was supported by a world tour with Dare Tour 1981/82 and since there has never been released any live material from that era, it has taken on an almost mythological status among fans. So what are your memories of that tour, musically and otherwise?
I think there were a couple of bootleg albums from those tours, one of which was called "Drumset Mystery", "recorded" in Milan in '82. - "On Stage There Was No Drumset At All, But You Can Perfectly Hear It !!! ", proclaimed the back of the album sleeve.
The memories of that period of touring could easily fill a book, I usually quite enjoy touring, and this was now at a more salubrious level that I had previously been used to in The Rezillos, SHAKE etc.
I was also pleased to discover that even a Synthy Pop Band has its moments of unbridled mayhem, and for all his self composed cool, on the occassions when Phil decided to get involved, he was one of the biggest mentalists I've ever met! ....That Bob Last could also be a bit of maniac from time to time.
Oh yes, and being a punk rock electric guitar player I was of course rubbish on keyboards.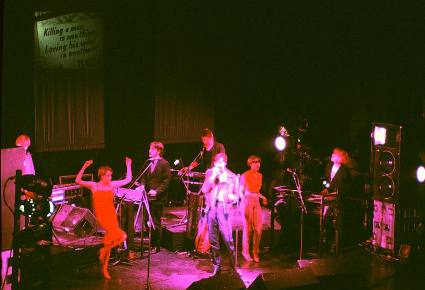 You even managed to slip in a Rezillos cover in the setlist with Destination Venus. Who's idea was that ;-) ?
That was Phil. We also did a song by one of Ian Burden's previous bands in the set.
In recent years The Rezillos have repaid the compliment by doing a rock version of Don't You Want Me, which though I say so myself, is a mighty fine interpretation!
The follow up caused you problems and ended your relationship with Rushent. You did release the Fascination EP in 1983, where you contributed to some of the best songs in the League catalogue with (Keep Feeling) Fascination, Mirror Man and I Love You Too Much. What was causing you problems, since you "only" had material for an EP?
Thank you for that Niels, (Keep Feeling) Fascination and Mirror Man are also amongst my favourites of the songs we did.
I think the relatively unexpected success of Dare made the group feel that the follow up had to be as good as Dare or even better.
With the benefit of hindsight I think this led to a lot of "self imposed" pressure and worry about the quality of the material, thereupon, deliberation and frustration began to set in, and it just wasn't fun or exciting anymore.
The vibe was good at first, and the tunes you mention, which were being written during the buzz of touring and public activity, came out of that initial period of creativity. Thereafter, direction seemed to get a little lost and things went a bit pear shaped.
I tried so hard to keep that relationship with Martin together, to no avail at the time, but I did manage to help resurect "the team" temporarily for the 1990 "Gulf War" single; Heart Like A Wheel, which was a respectable hit on both sides of the Atlantic.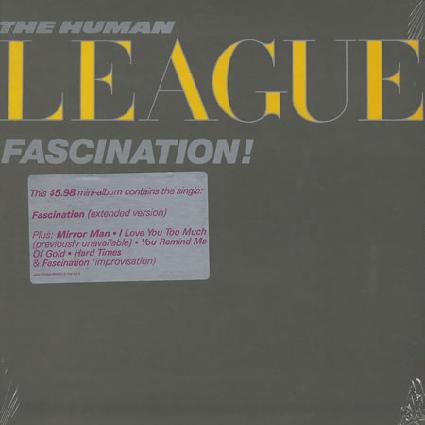 You then recorded Hysteria co-writing amongst others the singles released. It didn't live up to expectations, even if it went Top 3 and spurned 3 Top 20 singles, which most bands could only dream of! But how do you view the recording of the album that has gone down in League history as the most difficult, expensive and time consuming album to make?
Yes, not to be confused with the album of the same name by that other Sheffield band, what are they called again? ..Oh yes, Def Leppard. I think their Hysteria sold by the multi millions, and ours by merely multi thousands, no mean feat as you say, but a comparitive "flop" after Dare.
It was very patchy, the good bits were good, i.e. The Lebanon, which I was particularly pleased with, whereas some of the other tracks sounded unfinished and a little bland, a bit like demo recordings.
The most fun I think , was recording the instrumental track "13", which was to be the B side to The Lebanon. We seemed to be able "let go" a bit that night,
and just have some fun. And I think the track worked out all the better for it.
Oh, yeah, and Phil "accidentally" broke the kneck on my 70's vintage Gibson Les Paul guitar, the big shit! But he did get it fixed for me, and it was good as new.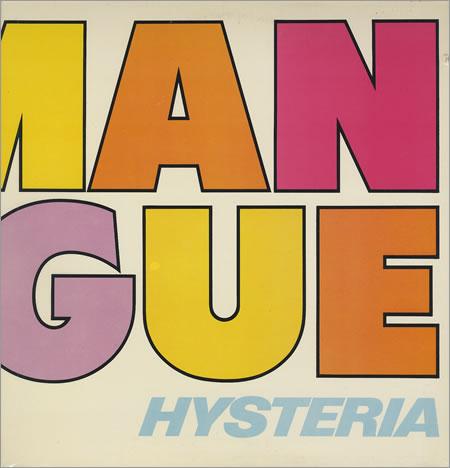 After Hysteria, you seemed to slip out the back door of The Human League as you were nowhere to be seen when the Crash album was released in 1986. What happened?
Well, I didn't leave on account of the guitar incident.
I think I was just getting so frustrated that everything was taking so long, and the decision making process wasn't as bold and fearless as before. Again with hindsight, I think that if we had Hysteria out within a year or eighteen months of Dare, it would have made a world of difference.
I had assumed that my decision to leave the group would have been documented by a press statement of some sort from the band to the music press at least, and that I would be requested to do some "spill the beans" type interviews, and perhaps a few work offers might come my way now that it was common knowledge that I was a free agent again.
But alas, nothing? Nobody seemed to be acknowledging my departure. I soon learned that you very much have to blow your own trumpet in this world! Perhaps I should have stuck around, who knows?
Even if you haven't officially featured in the band since, you still contributed songs to both the Romantic? (Heart Like A Wheel/Get It Right This Time) and Octopus (Never Again) albums. Were you active in the studio recording or was it more a case of handing over the songs?
I think I do get credited in the small print of both albums sleeve/inlay artwork for programming and/or synth playing, so yes I was well involved in all tracks. I would have been present during the entire recording of Heart Like A Wheel and Get It Right This Time, at Genetic studios, with all the "old team".
But I was recovering from an operation, so I only caught the last few days there unfortunately, and I had been really looking forward to it.
Can we expect to see more of this in the future with you contributing to the song writing?
Yeah, I still feel a bit like part of the family, I'd be delighted to get involved again in some shape or form. I still think "The League" are capable of doing something quite radical and surprising everybody one day, and I'd love to be a part of that.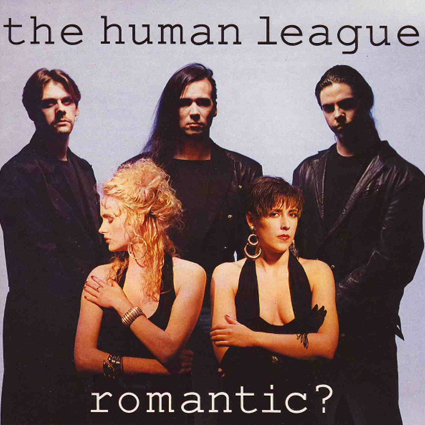 Romantic? didn't do quite as well as hoped in the charts, but Octopus was a big hit. How do you view these two albums? Their last album Secrets was was viewed by fans and critics as their best work since Dare. Is that also how you see it?
Gosh, I haven't listened to them for ages, and shamefully, I don't think I've heard Secrets at all. I particularly remember liking All Men Are Dreamers.
Oakey has always been very generous when mentioning your input in song writing. You could turn any idea into a great song and he misses working with you. How do you view your own input to The Human League? Favourite song you contributed to?
Gor blimey guv'. It's kind of difficult to be objective about that, it's perhaps a question best answered by all my former colleagues. But I'd like to think that I made a significant contribution to the strength of material and direction of the group, helping steer it to where I think we all hoped it would go.
Favourite Human League album, single and song?
A nice thing about The Human League was that on some songs one could have very little involvement other than perhaps laying on a synth line or helping programme a few drum patterns, so the finished results can be listened to quite impartially.
I very much like Love Action, which was pretty much Phil and Ian, and You Remind Me Of Gold, (the B side to Mirror Man) which was almost entirely Phil. I find I can listen to these tunes in the same way I listen to my favourite songs by other artists.
One of my all time favourites though is Seconds, even though I was "heavily involved". The song came out of a jam we had in the old 8 track Sheffield studio, which was quite an unusual thing in itself. I was trying to imagine what The Sex Pistols might sound like if they were a synth band.
I still love that rather dark, monolithic side to The League. And Seconds always sounded great blasting out in a club. Oh yes.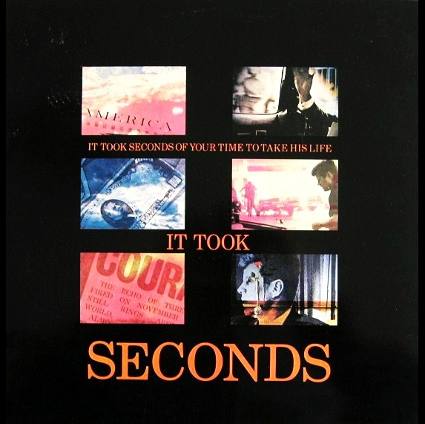 Did you catch the band on the very successful Dare 2007 Tour and if you did, what did you think of it?
I certainly did catch 'em, at The Carling Academy in Glasgow, it was indeed a superb and vibrant show. In fact I came over quite emotional towards the end, during a splendid rendition of Electric Dreams, which took me quite by surprise, eyes welling up, bottom lip going and lump in throat. The full nine yards.
It was brilliant to catch up with everyone after the show and also meet the current band members, a marvellous bunch of fellows. I am especially proud of Nick, who upholds my rebellious tradition of injecting a little of the Rock and Roll spirit into the proceedings.
According to Oakey, The Human League weren't that great live in the 80's, but they've turned into a great live band in the last 10 years through extensive touring. How do you rate them as a live band?
The League are definitely a great live act now. In the early 80's the technology was still quite elementary, and we were pretty much pushing it to the limits of the day when most of our contemporaries essentially had a conventional line up but; "with a synthesiser guy".
The League did a lot to help propel the proliferation of more sophisticated commercially available electronic instruments and recording equipment that were soon to appear.
As Vince Noir explains to Howard Moon in an early episode of "The Mighty Boosh": "The Human League were pioneers man, they invented music!".
BMG released an American Human League compilation on promo cd called The Very Best Of - The Jo Callis Songs. Bit of a testament to your contribution to the band, but can you tell us more about this release and the idea behind it?
I was a bit puzzled myself when I first heard of this. Transpires that it was an "in house" promotional for "the industry" to help encourage usage of the material through sync and mechanical licenses for TV and film, cover versions, sample use etc.
Was it meant to get a full release?
I don't think it was ever intended as a commercial release, but a few seem to have slipped out into the public domain.
The Human League has a vast collection of vintage synths, so which one was the most fun to "fiddle with the knobs"?
I was attracted to the Roland Juno 4 initially, it was polyphonic, so I could learn to play chords, and it had some good push button preset sounds, so you could get some decent noise out of it quite quickly.
Everything else was like the accoutrements of some dark scientific art until Martin Ware very kindly spent a day giving me a crash course in the black arts of the waveform, the oscillator, the LFO and the ADSR envelope.
Before too long I was twiddling resonance filters, shaping envelopes and triggering sequences, a complete heretic to my former punk brethren.
Are you still involved in the music business full time and what are the future plans for Jo Callis?
Yep, still making a living in the music business, still open to offers, and perhaps there's still some unfinished business with "The League" at some point. ....